Summer Jam was the first offline mayor in North America in a long time. How it felt, to play offline after so long? That (and more) were my questions for TOP3 placements – linkorz, Enders J, and Thermidor.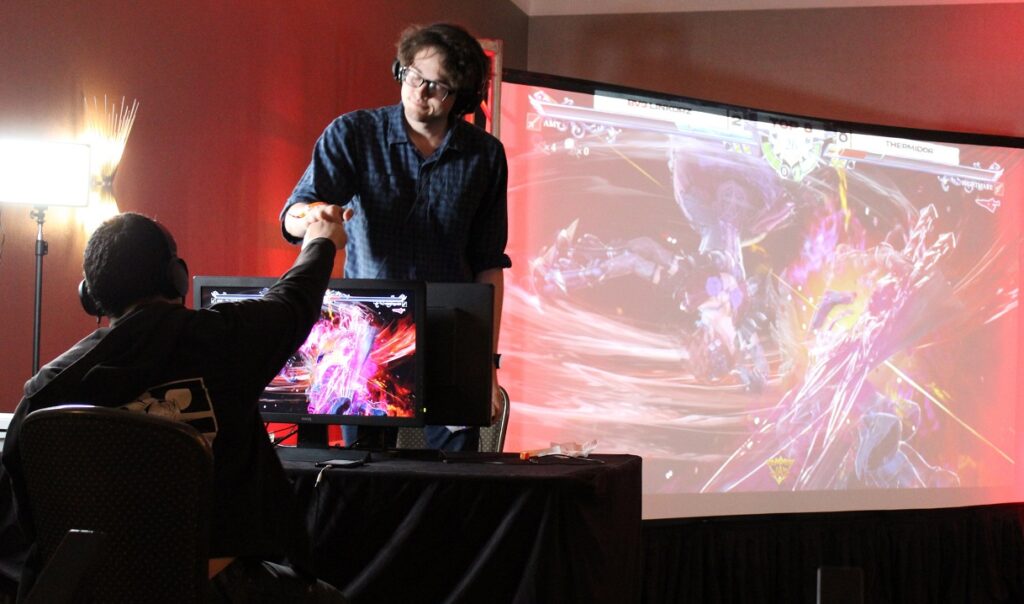 Hello, can you briefly introduce yourself as an SC competitor?
linkorz: Heyo, I'm Nathan AKA linkorz. I'm from New York and have been competing in Soulcalibur tournaments since 2015. I used to play Siegfried and Geralt but nowadays I consider myself an Amy main.
Enders J: Sure yeah! My name is Enders J and I'm a Soul Calibur 6 player and Cervantes enjoyer from NYC, and a member of NLBC's FGC scene.
Thermidor: I am Thermidor I got into Competitive Calibur during SC4 where I was terrible at the game or maybe because I played Nightmare and he sucked or both who knows.
Summer Jam was the first big, open SC event in the US that was held offline in a long, long time. How did you enjoy it?
linkorz: I had fun. It was great seeing people again and just being back at a Big E tournament. I'll admit though, I think I might be growing out of attending tournaments as regularly as I used to. What with school and other life stuff taking precedence, it's harder to focus on just enjoying myself at these events.
Enders J: I had a LOT of fun going to Summerjam. It was a great time getting to compete again and spend time with all of my friends in the community. While I've been able to enjoy hanging out in Discord with a lot of the SC6 community both playing SC6 and other games, there is something clearly special about being able to see all my friends in person, and gathering at a large event.
Thermidor: It was a great. Nothing beats playing offline and hanging out after.
What was your personal highlight of the tournament?
linkorz: Probably my match with Jeo. He was probably the player I was most concerned about fighting, since he has a very strong understanding of the Amy matchup and the strengths Yoshi has in it, so I was spooked when I saw him in my pool. We both played really well in the set, and it really felt like a back and forth.
Enders J: Hm, if it were to be a personal highlight for me in terms of my own performance, I would say my run through top 8 from losers side for sure. I think in a lot of those matches I was on the backfoot, and looked like I was going to lose or like, it was over for me and my opponent just had too much momentum. But I think I was able to mentally recover every time and keep it together, and I'm pretty proud of that.
Thermidor: Watching Yoki almost beat my ass as I was cheering her on and screaming when she got rounds and a match while she fought me. She came close I was kinda nervous lol
How do you feel about your performance?
linkorz: Winning tournaments doesn't seem to be quite the same rush as it used to be, but nonetheless I'm obviously pleased with it.
Enders J: Well, going into Summerjam I told myself that I honestly only wanted to have fun and see my friends, and I didn't care that much about winning. But now that it's all over… I really wish that I had won haha. I'm overall happy with my performance. I think I played really well, all the way to the end, and I made it scary for all of my opponents. I think that all the way to the end of that grand finals set, either of us was on the edge of winning the entire time, and it was a really scrappy fight the whole way through. There's nothing to be unhappy about for me when that's the case.
Thermidor: I was expecting to go 0-2 and get drunk after but I don't know what happened people just kept losing.
How did you prepare for an offline tournament after such a long time with only online?
linkorz: To be honest, I wasn't really practicing much for this tournament. It was the same week as classes starting so that was my focus, along with some other life stuff. That being said, I did play a few sets with some friends online the week before.
Enders J: Hm. Well, I played a LOT of SC6 during the beginning of covid. But near the end and coming up to Summerjam, I didn't really play very often. I spent a lot of time just improving my life situation so that I could have better emotional and mental health, spending time with my friends on discord, and playing other games to relax. In my opinion I think it's very important to understand that once you have learned a lot about a game, and practiced it a lot, and you have become fairly good at it, the most important thing you should do to improve at it next is adopt a strong mentality, and strong control over your mental state. That was something Ramon taught me a long time ago at NLBC.
Thermidor: I didn't. I don't play this game. I spent most of my time playing The Legend of Zelda Skyward sword which is a great game I'm having a blast and those that went to the NLBC monthly prior to SummerJam saw that I was playing that instead of doing casual's. Also Hearthstone you can even see that I was playing it before the start of losers finals and when I was getting my Medal there's a picture of me showing my phone lol
How did it feel, to compete offline after such a long time?
linkorz: Well, I've been playing/competing offline pretty regularly since around March, so I'd say this question doesn't really apply to me.
Enders J: It felt pretty good. It definitely affirms my desire to continue traveling for events in the future and play more calibur. And the game itself feels so much better while playing offline so that's great.
Thermidor: It felt WAY better playing Offline than it does playing Online.
Is there anything else you will like to mention or talk about?
linkorz: As always, I'd like to give a huge shoutout to Big E Gaming for always supporting the Soulcalibur community. I got my start at NEC about 6 years ago and haven't missed one since. With developer support likely having come to a close, NEC will probably be the most prestigious event for SC6 in the coming years. So, if you want to experience the Soulcalibur community, you should really come to NEC this year.
Enders J: I just want to shoutout YoshimitsuVI. It was his first offline event, and not only did he send me to losers, but he made it to the very end of his pool. Anyones first tournament is a pretty scary venture, and I think not only did he play well and keep it together, but he was a great person to meet, and I hope to see him at more events.
And also, support your local scene everyone! NLBC is the reason I am who I am and I am where I'm at. And I always wished that more people could have something like it.
Thermidor: Give Nightmare an actual i12.
Thanks a lot for the interview!