NEC21 was undoubtedly one of the top US events for SC6 of this year. The list of known names attending was insane, as the chance to play some OfflineCalibur was really tempting for everyone. In the end, top 3 was occupied by linkorz, Outlaw and Xephukai – who were interviewed for this article.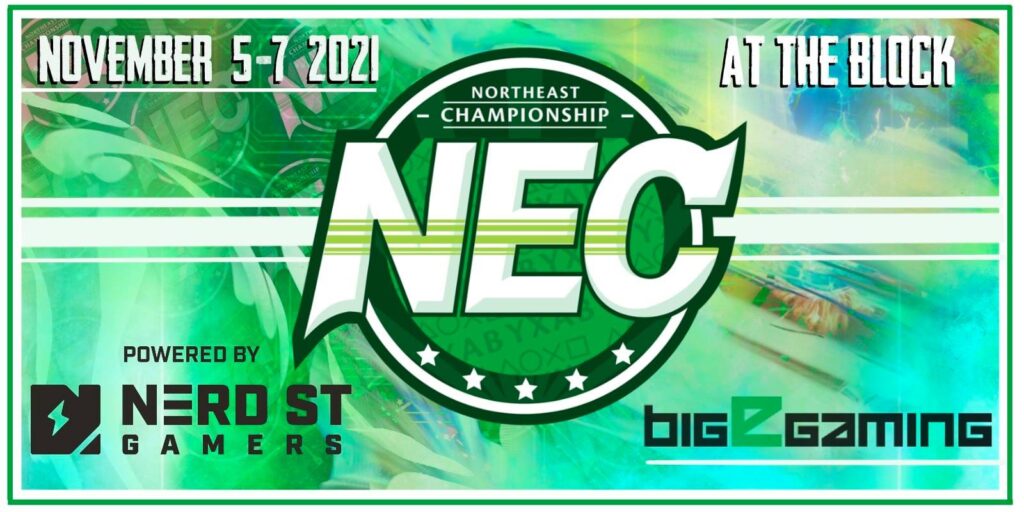 Hello, can you briefly introduce yourself as an SC competitor? Let's pretend that it is not that everyone actually knows you already 🙂
linkorz: Hi, I'm Nathan, AKA linkorz. I've been competing in Soulcalibur for about 6 years now. I used to play Siegfried and Geralt in SC6, but nowadays I consider myself an Amy main.
Outlaw: The name's Wesley Tex. I'm a Soul Calibur contender known as RIP. CITY. OUTLAW. My posse call me Outlaw.
Xephukai: My name is Sean aka "Xephukai." I have been competing in SOULCALIBUR for about 11 years now and counting and I tend to pick top tier (or who I think is top tier) for competitive play.
How did you enjoy NEC21?
linkorz: I had a good time at the event. Hanging out with friends is always fun, and I've found myself enjoying competition much more than in the past. That being said, it was a shame that the event wasn't at a hotel. One of my favorite parts of tournaments is being able to easily go between rooms and see different people, but that's much harder when everyone is spread out to several different hotels.
Outlaw: I enjoyed NEC21 a lot. Fun events before the tournament. Lots of casuals. Great venue. Had an ace high time.
Xephukai: Definitely loved it. Thought NEC was an eye opener and a reminder of why I compete offline for this game. I usually always enjoy Big E events (he is the GOAT of TOs for USA Calibur tournaments) but this NEC was amazing on so many different levels. Loved it.
From your point of view, is there anything that makes NEC21 stand out? Anything that made it unique or special to you?
linkorz: Getting to meet lessthanlee and MasterCJ was great. I got to know them both on Discord over Covid, so despite knowing them for almost 2 years it was our first time meeting. I also got to hang out with several others that I hadn't seen since before covid. Shoutouts to KC, Jimbonator, Fyre, Drae, Jetstream Sal, Benwithvees, IV Wind, and anyone else I might have missed. Overall, NEC felt like it represented the NA SC community at large getting back together for the first time in a long time, and that was very unique to me.
Outlaw: NEC is known as THE Soul Calibur tournament. Now I know why. Bracket will be stacked.
Xephukai: NEC is and (hopefully) forever will be THE Soul Calibur tournament for our community in the states. Too many times has Big E put us on and helped our community, regardless of numbers. I thoroughly enjoyed the offline play/competition. Playing in a high level environment offline after so long reminded me of a lot of things. One in particular is how different the game actually is comparably to online, and how much more fun it is. Definitely enjoyed my time.
What was your personal highlight of the tournament?
linkorz: Getting the opportunity to use Groh on a mainstage offline tournament again was great. I love playing him, but I struggle to find spots where I think he's the best choice in a match. I was glad to get that chance.
Outlaw: My personal highlight would have to be outplaying Xephukai for the win to get to grand finals. Back in the day it was the only way to beat my older brother lol
Xephukai: Personal highlight for NEC was definitely getting to play sets VS some of these new players. A few in particular was playing Lessthanlee and MasterCJ. Also, literally just competing in an offline event with such good quality of skill present was a big highlight. Forgot how fun it can be.
How do you feel about your performance?
linkorz: Overall, I was a little disappointed with the competition at this event. I felt like many players were missing that drive to win that brings tournaments to their highest level. I hope to see it reinvigorated in future events.
Outlaw: I feel like my performance was okay at best. I capitalize on important key moments but there's a lot of holes in my play. I should of trained for the tournament but I didn't. Thought I'd drown in pools.
Xephukai: In concerns with my performance, it's a mix of emotions. I feel I played absolutely terrible in some matches, then as I played more and acclimated to offline competitive play, I feel there's some matches where I played extremely well. Not satisfied with third place, and I plan on being better and more prepared for other offline events I attend in the future.
Do you have any special pre-tournament routine that helps you to prepare?
linkorz: No real routine that I habitually stick to. I feel it's necessary I'll try to get in some extra matches before a tournament, but that's usually something I just feel out.
Outlaw: My pre-tournament routine is drinking coffee, warming my hands on the game, while boosting my teammates morale.
Xephukai: My mainsource of preparation is online. I was in Houston for a bit during the pandemic, and the closures of all major fgc events, and so I was able to play some offline here and there. Otherwise, netplay/parsec has been my main source of practice and preparation. Alongside of just watching videos and theorizing MUs/play VS specific individuals.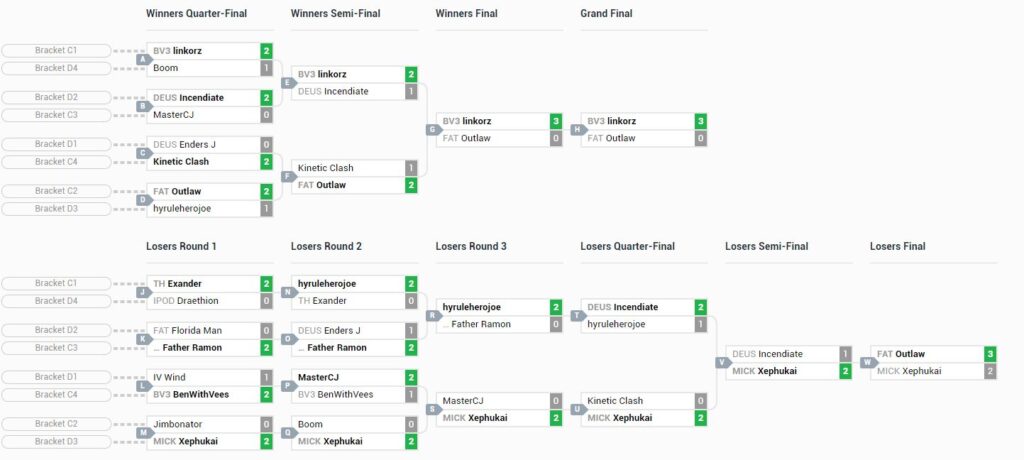 Is there anything (or anyone) you will like to mention or talk about?
Outlaw: I'd like to give a mention to Chapter XLVII and Faustian. None of this would be possible without him and Faustian's strong contenders keeping me sharp. Chapter believed in me before I even knew how to use my character. If you wanna see more of me or anyone from Faustian, go to FaustianFGC.com and buy our merch. All the money goes to sending us Faustian competitors to majors.
Xephukai: Congratulations to Linkorz for winning. Congratulations to Ripcity for 2nd place, good showing. Also, very nice meeting a lot of new friends I've yet to meet in person. I love our community a lot and am very proud of a lot of players and their growth in terms of capabilities in this game.
linkorz: I got a call from my sister during top 8 telling me that we needed to get home as soon as possible, because our mom was telling her that our dog Summer wasn't doing well and needed to get to the vet. Later that night, Summer passed away. She had been with us since I was 9, and meant the world to all of us. It came very suddenly, and none of us were truly prepared for her passing. I've been missing her every day, and would like to honor her here.
Thank you all for the interview!
Also, last but not least… Here are a few photos of the above-mentioned Summer linkorz will like to share in the memory of her: