We already talked with CT21 TOP3 players for SC… But now, let's ask some questions also to the event commentators in suits – as these were none other than infamous "Dark Queen" Valhanya accompanied by notorious "i12 for NM" Zer0!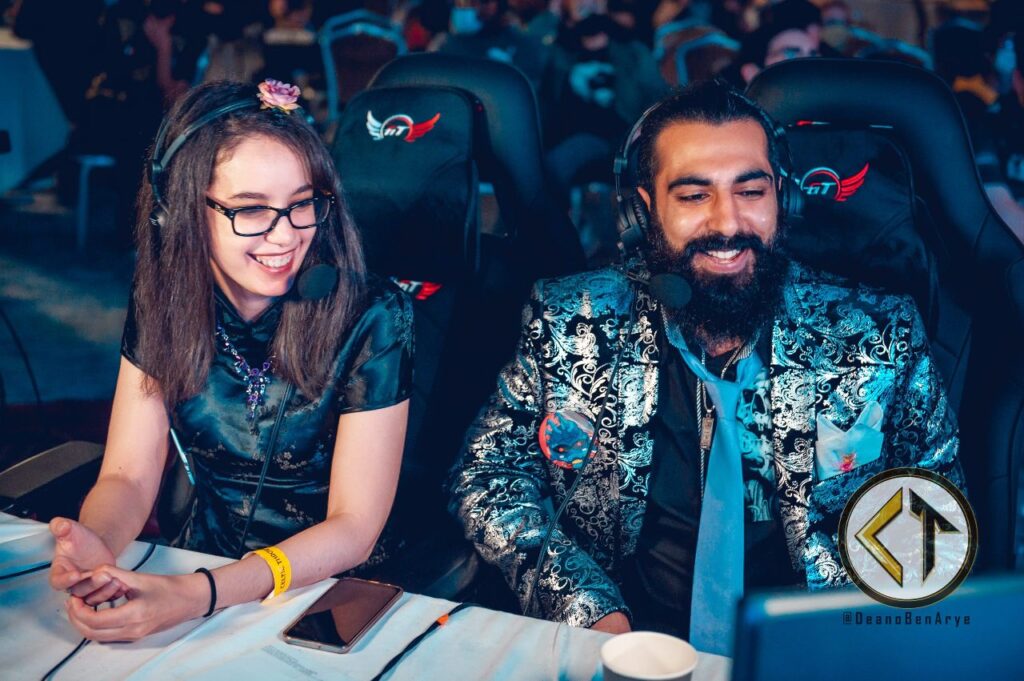 Hello, can you briefly introduce yourself as a SC commentator? Let's pretend that not everyone knows you already.
Valhanya: Bonjour tout le monde, my name is Valhanya, the french Dark Queen of the Dark Love Kingdom. I started to commentate two years ago during the ETL season 1, taking my inspiration from 1TLAU and then, commentated various online events in French like OFC or the FuryLan tournaments with my cousin Tadlos. Then, I decided to extend my horizons and with the help of ZER0, Kusoge and Maimai, I started to commentate in English for the LIYC and the EOS mostly.
Zer0: Hello Everyone! I am ZER0, right hand to the Dark Queen. I attempted commentary several years back in SCV and it didn't go too well (if you know, you know aha). Some years later I talked to Alicia of AXL when she came to Birmingham for VSFighting, this conversation actually inspired me to try it again. I've since commentated quite a few events such as Meltdown Monthlies, EOS, Heaven's Battle, OFC alongside my partner in crime Val as well as others such as Maimai, Holycarp, Andyroo, Aelz, Kusoge, Aby and many more.
CT21 was the first international SC offline event in Europe in a long, long time. How did you enjoy it?
Valhanya: Celtic Throwdown 2021 was my very first international SC offline event and I enjoyed every second of it. I've been hanging out with the EU community for two years now and it was the first time I met them IRL and it felt so good. Everyone was so happy to see each other. I felt like they were old friends who I hadn't seen after a long time, everything was so natural between us.
Zer0: CT2021 was amazing, I got to catch up with some of the community I hadn't seen since The Mixup or VSFighting 2019, as well as actually meeting some of the new faces who have existed online for this long a time. We're a family and we're always welcoming.
What was your personal highlight of the tournament?
Valhanya: Without a doubt, my favorite match was the losers finals, my boy Aelz against Habaduba. This match was breathtaking, I felt like I wasn't able to commentate properly because I was so stressed for Aelz but hype at the same time. I was sad that Aelz lost but I am so proud of Haba's performance, he was literally coming from hell and showed a very solid mental and gameplay. This was amazing, especially since it was his very first offline tournament.
Shoutout to my Xianghua fellow Lyonide with the Baguette Reveal, he hid the t-shirt from me until he came on stage, I didn't expect that, aaaaaahaha.
Zer0: All the top 8 sets were amazing! Habaduba played exceptionally well, Aelz' methodical dissection of players could be seen in real time, Dexus running through everyone. However Neon vs Mercymain has to be my favourite match, the rollercoaster of emotions from both players as they tried their hardest to overcome the other. Neon played out of his mind and I desperately wanted him to win but Mercy's patience allowed him to steal the victory.
How was the event organization?
Valhanya: The organisation was perfect. The venue was dope, the staff was very kind and professional and the production very clean. The top 8 took place on the biggest stage. It was quite impressive but the staff put us at ease and explained everything to us. I really liked how they let us commentate the way we wanted, they asked us to be ourselves and that's what we did.
The only thing I regret is that we weren't able to stream some matches from the pools because they were very sick and hype.
Zer0: The level of professionalism and organisation was top notch. Venue was very nice and spacious and the staff were incredibly friendly and easy to talk to. They made it clear what the schedule was, where we were, how things were going to happen and, most importantly, they reassured us before we started (I can't lie, I really needed it).
If I am not mistaken, this was your 1st time commentating offline major. How was it, compared to online ones?
Valhanya: Stressful, haha. We were so stressed before it started, I personally was quite impressed by the production. For example, despite the fact that I stream with a cam, I didn't feel at ease in front of the camera, probably because it was bigger (and I could see myself on a TV so I didn't feel comfortable with that) and because I wasn't in my comfort zone, in my gaming room with my tea and blanket. Also, I was afraid that I messed up my English and that feeling never happened when I commentate online.
Moreover, I honestly didn't see the time pass. We commentated for three hours in a row and I didn't feel tired. Usually, during online events, I feel like I need to take a break after two hours of commentary. I didn't feel that way during the CT, probably because of the environment that gave a lot of adrenaline and excitement and the fact that I was able to see and directly interact with my partner, it felt like we were sharing our energy.
Also, talking about players' reactions and emotions is great and it gives more life to the commentary, that's something we can't do online since we don't see their faces (shoutout to "Smug Mercy" and "Blade-Of-I'm-not-Impressed").
In the end, it went very well. Everyone in the venue congratulated us, I received some kind messages online. I am very proud of what we accomplished. I enjoyed this first offline experience and hope I'll be able to do more in the future.
Zer0: It was the first time commentating an event of this magnitude in front of so many people and on the big stage, the level of production was also top tier. So to say we were both absolutely nervous was a bit of an understatement. Thankfully HTBW, fellow commentator and friend of ours (don't forget to sub to his YT), gave us some really good advice and we took all of it on board, not to mention before we began the CT staff and SamDDing stopped to reassure us before the stream began, giving us very clear instructions to follow. So we can't thank them enough for this.
When compared to online events, it's a different beast altogether. I've commentated both onlines and offlines but these have usually been casual. I can just relax, let loose and crack as many bad puns and jokes as I can while getting a chuckle from my partners and the audience (shoutouts to J'adore commentary hehe). When the time does come that I have to commentate in a more professional manner, it's usually in a familiar environment which is my room. So yeah, 2 completely different environments require 2 completely different mindsets
Regardless both Val and I gave it everything we had and we received compliments from everyone, not just on our commentary but how we dressed too and the scene itself which made it all the more special for us. I had so much fun despite the death of my throat but I'm long used to this now haha, with that said I'd be looking forward to more opportunity to commentate more offline events.
Do you have anything to say about your commentary partner?
Valhanya: Believe it or not but we've known each other for two years now and it was the very first time we've met. I was very happy and excited to do my first offline commentary with him because he is without a doubt my best partner and more than that, a dear friend of mine. We have that incroyable but puzzling synergy between us and the fact we were able to show it during our first offline, under a certain amount of stress, was fantastic and incredible.
Zer0: I actually didn't make plans to come to Ireland nor do commentary until Val pushed me into it and I'm glad she did. We've known each other for a while, we're amazing friends and have commentated a lot of online events together, sometimes serious but mostly fun and casual, usually with the both of us laughing our heads off by the end. So we have this weird but amazing synergy between us where we play off each other's strengths and cover the other's weaknesses. So we are kind of a unique pairing and I'm glad we got to display that at our first major together.
Is there anything – or anyone – you will like to mention or talk about?
Valhanya: Big shoutout to the CT organisers, the event was sick and everything went smooth. I hope I'll be able to do more events like this in the future. Two years ago, when I arrived in the community, I never imagined that I could one day travel abroad thanks to video games and accomplish everything I have accomplished since now.
Shoutout to my daughter Maimai with her amazing art, everyone was so happy to get a pin with their main on it!
Big shoutout to the EU community too, you guys and girls are the best and the most beautiful ones. Thanks for your kindness but also for your support on my projects and streams, that means the world for me. <3
Zer0: I'd like to shoutout Ayjay the TO of CT as well as Iceman Dan and the rest of CT staff, the event was thoroughly enjoyable and the staff went through a lot to get this event running. Special shoutouts to SADX for giving me the rundown on Ireland the general layout of things, Mikenyan for trying to get back into the game, man asked for casuals from everyone all the while TOing for us. HBTW again for the really helpful advice before top 8 began, of course SamDDing for keeping us reassured as well keeping an amazing positive energy.
Big massive shoutouts and thanks to Maimai for gifting Val and I those amazing pins; we gave almost everyone we could a pin that they wore to the event, really made us stand out, shoutouts to everyone who turned up for calibur, to top 8, Darxy for suggesting #SuitCalibur and organising all the happenings as she always does, Neon for taking us around when we got to the Crowne Plaza, Branstar for being that kind of bigger brother figure I needed, Seppy for always being so wholesome and positive, Unicorn for everything you do in the scene with Calibur Portal and scuffle (I really just want to shout out everyone but I'm afraid the paragraph will just become a massive wall of text). Of course last but not least, my Dark Queen for being an amazing friend and for looking after me at every turn in Ireland hahaha. I love this scene so much, everyone is family and I wish to see everyone again hopefully soon!
Thanks a lot for the interview!