ETL. If you are familiar with SoulCaliburVI online events, then this acronym must ring a bell. If not… European Team League is a team event created and ran by the man who carries the whole European online scene on his shoulders, MPhantasm.

ETL. If you are familiar with SoulCaliburVI online events, then this acronym must ring a bell. The ETL Season 3 kick-off show took place on the 26th of March 2021 on HolyCarp's Twitch channel, when ten Captains and their Aces built their teams by picking two players each in a large draft pool. Before entering into the Season 3 details, let's do a quick historical review of the event.
ETL Presentation
The ETL (European Team League) is a team event created and ran by the man who carries the whole European online scene on his shoulders, MPhantasm. The very first season took place in January 2020, when five teams of four fought in a round robin format for the first place over the course of twelve weeks. The winner of this first season was team #SetsukaWhen, led by Danurai.
The first season was a success among the players and the viewers, so naturally, MPhantasm decided to organise a second season that began on September 2020. A second season which was much more ambitious, with a higher number of teams, more players and new rules. The newcomer team ALLSTARS led by Zanaken claimed the first place after nine weeks of fightings.
The second season's new rules turned out to be a bit controversial (especially the infamous "Ace rule," according to which a team won two points by defeating the opponent team's Ace) but thanks to the players's feedbacks and enthusiasm, MPhantasm was able to fix the second season's issues and launch a third one.
On paper, this third season looks even more ambitious than the second one. Indeed, MPhantasm aimed even higher and wanted to showcase as many players as he could. The players were so enthusiastic that the slots were filled in less than three hours after he sent the invitations. Which led him to open two additional team slots in order to meet the demand. ETL S3 ended up with ten teams instead of eight. Four new teams, led by Kusoge, Neon, HolyCarp and Fotten arose and accepted to join the battle. The format will be the same as the previous season: qualifiers round robin format where every team will face another for each of nine weeks. Then, the six best teams will compete against one another in a single elimination bracket and the team that manages to go through will be crowned. All matches will be played in First-To-5 format and determined according to the matchmaking rules, which were simplified to allow for more strategic match-ups.
For this season, the general rules were simplified after MPhantasm worked internally with all the Captains to try to make the draft – and so the teams – more balanced than the previous season.
Speaking of teams, here is a global view of them.
ETL Season 3: Teams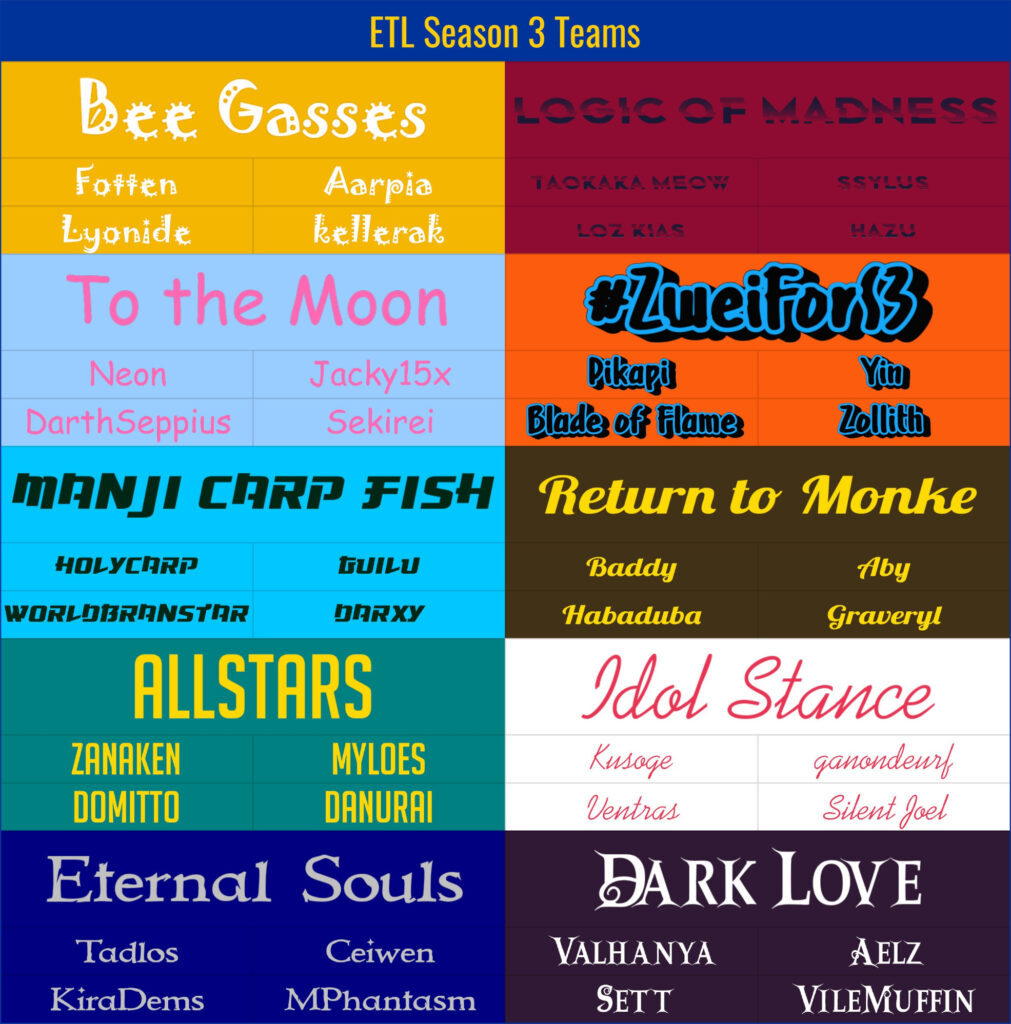 If you watched the ETL since the very first season, some names and teams must be familiar to you.
Indeed, Valhanya decided to step in for the third time with her Ace Aelz, who has been fighting by her side since the first season. Tadlos and Taokaka_Meow, also veterans, but for this season, decided for this season to refresh their teams with new names, new graphics and new Aces. Pikapi, and of course, Zanaken who will try to retain his Champion belt, joined once again the battle.
Before the draft happened, every team devised strategies in order to build the team that would suit them the most. The player's pool was very diversified – in terms of player's level and personalities – and that variety allowed teams to think of different strategies and to build personal teams. Some teams tried to aim for the best players, some others picked according to their heart and affinities, some tried to do both.
ETL Season 3: Start !
The first week starts on the 5th April and here's the matchmaking:
The schedule will be released soon and each week, matches will be streamed on the Captains's Twitch Channel. If you don't want to miss an announcement or stream of your favorite team(s), here where you can follow them:
Team Bee Gasses:
Team Logic of Madness:
Team To the Moon
Team #ZweiForS3
Team ManjiCarpFish
Team Return to Monke
Team ALLSTARS
Team Idol Stance
Team Eternal Souls
Team Dark Love
Let the fight begin !