East London Fighters used to run Monthly Series in Tekken and SoulCalibur. Then, covid struck… But not, they're back. Let's see what Danurai and DarthSeppisu have to say about it!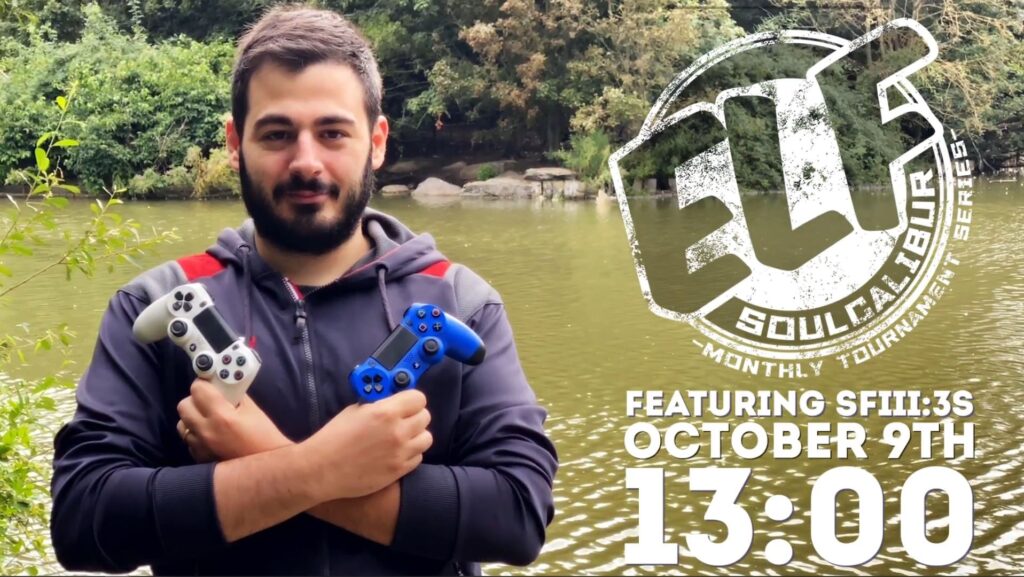 Signup page: smash.gg/tournament/elfm-soulcalibur-vi-sfiii-3s/attendees
Stream: twitch.tv/eastlondonfighters
Can you both briefly introduce yourself?
Danurai: Hi! My name is Danurai. I'm a commentator, content creator and sometimes TO for Soulcalibur 6. I've worked with ELF, EVO, WePlay and Bandai Namco on numerous events.
DarthSeppius: Hello! My name is Francesco AKA DarthSeppius. I am a Soulcalibur player and, from mostly two years TOs for Soulcalibur Online and now offline! I started playing the game with SCIV but mostly started playing competitively during SCV, always a Cervantes main from day one. I am working with ELF for the last 2 years now and I am very happy about the staff and the whole team on ELF.
If you will have 3 sentences to advertise ELF Offline to unaware SC player, what will you say?
Danurai: ELF Monthly Offline Series is the most competitive SC6 Offline tournament in the UK! We operate out of an awesome venue on Eade Road with multiple console setups to accommodate a massive tournament alongside casual games. If you're so inclined, the venue also has a plethora of music/rhythm games and arcade cabinets.
DarthSeppius: 1 – It's an Offline monthly in London for SoulCalibur VI;
2 – We have the top 3 Prize Cup for every single event!
3 – Gives the opportunity to new and old blood to prove themself offline while being streamed.
OK! Now, can you tell us more about this event?
Danurai: The event spawned out of the rising demand for a competitive yet engaging and friendly offline scene for SC6. The world tour was coming and we had a growing and dedicated playerbase, so we wanted to support it. Unfortunately, we were only able to get two offlines at the beginning of 2020 and then BAM!… But fear not, warriors of the stage of history! We are returning on Oct 9th with a bigger and better event!
DarthSeppius: The ELFM for SoulCalibur IV was started 2 months before the big pandemic and we had a great time in January and February. The event now returns in a better venue, ExFed got bigger and better. The event will be on PS4 and will be streamed on twitch.tv/eastlondonfighters. It will be a double-elimination bracket! It is open to all EU and beyond so if you can manage the covid testing we allow all players to join the competition.
Any players you personally are looking forward to seeing participating?
Danurai: I'm honestly looking forward to seeing more of our lesser-spotted players attend our upcoming ELFM tournaments. Seeing the same names in bracket is a wonderful and familiar feeling but getting some fresh yet inspiring new blood would be awesome!
DarthSeppius: Usually, I am looking forward to all the UK community local players to be there and make the event great. On a personal note, I would like to see some new blood coming out for SoulCalibur VI. I would like the new blood to flow through the community and keep the game going for long.
From the organizer's perspective, is it different to prepare an offline event compared to 2 years ago?
Danurai: The logistics of organising an offline tournament in the current climate are incredibly challenging. We're still in the midst of a pandemic so we encourage people to be vaccinated and to be wearing masks before they enter our event, which is something we thought we'd never have to do. But cases seem to be dropping in the UK, vaccinations are protecting the more vulnerable among us and we're being cautious with our entrant number expectations. Other than that, we're incredibly excited to be offering ELF Offlines again for the SC6 community so we're working incredibly hard to meet, nay EXCEED our performances of yesteryear!
DarthSeppius: It is quite different in terms of staffing, venue limit, regulations and everything that involves public events with gathering people in a close environment. Right now we will have a cap on 32 players for our events and I really would like to have the happy problem of having more players than 32 to attend our events. As some of you might know we ran Tekken and Soulcalibur. Tekken reached the cap very soon, I am craving for SC UK community to smash that cap too.
Any closing words or any message for SC players and/or community?
Danurai: We know it's been a tough couple of years. With online tournaments being the dominant standard, people have been crying out for offlines. Well, you asked and we're delivering! If you want to continue seeing SC6 supported across London, the UK and even Europe, we're committed to showing off what we can do!
DarthSeppius: My wish is that the return of Offline Monthlies will be the signal of a good restart for the Soulcalibur Offline competition. I know that the UK community will be there for the event and I am looking forward to those players that are yet not known and are waiting for a chance to be in this amazing community! See you on Sunday! Pew pew!
Thank you for the interview!