Bonus Round is a US tournament with a high reputation and some sick events (Secret Boss Santa, anyone?) which hosts SoulCalibur events regularly. So, let's ask the latest top 3 players – Xephukai, FatherRamon, and RipOutlaw – about their experience!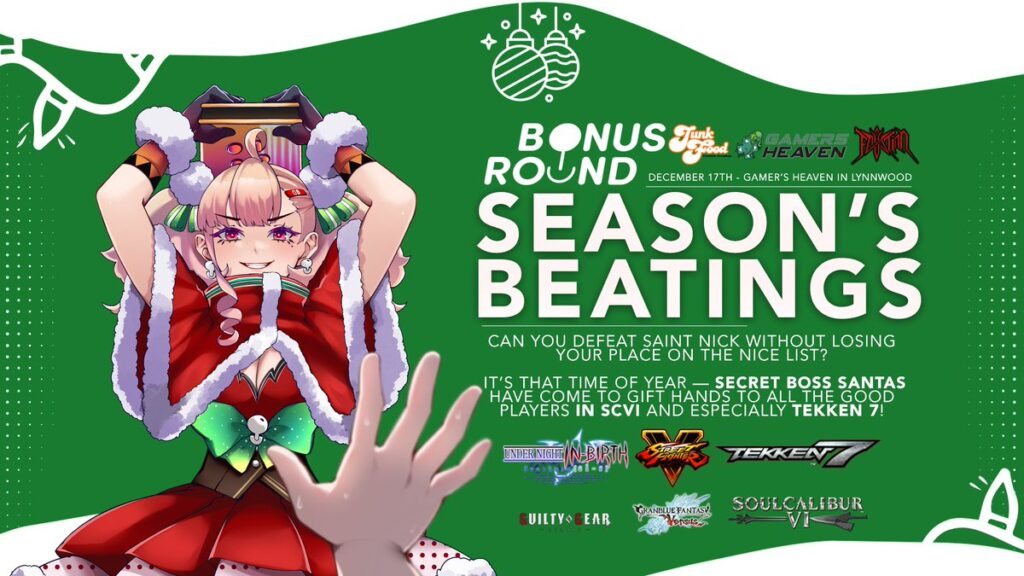 Hello! I don't think you need to introduce yourself as SC competitors (again), so instead, can you tell us something about who you are outside of SC community?
Xephukai: Something about me outside of the SC Community? I'm a father to two beautiful girls, and I'm fascinated with self-improvement and personal development/growth outside of gaming/competition in general.
FatherRamon: Outside of SC I'm known for being in Food and Beverage management. Been doing it for over 10 years and to great success! I've been doing it since I was 21 and I never really stopped until the pandemic.
RipOutlaw: Outside of the SC community I'm a father, husband, and a man of God.
Bonus Round have great reputation of a very special event. How did you enjoyed it this (well, technically last) year?
Xephukai: I enjoyed Bonus Round this year. I did voice that I prefer to be in actual downtown Seattle rather than a sub city. But overall, my experience was great. Played in competition for my favorite game, got to hang out with my lady and took this as an opportunity for a vacation for both myself and my partner (Noelle). We both work a lot, in pretty high-stress work environments. So it was pleasing to take a break from that. of course, being with some close friends for the whole duration of the tournament was choice.
FatherRamon: Bonus round was a lot of fun. Although we really missed being in downtown Seattle where all the fun is, it still managed to be a great event. Chapter is a great host and it's always fun going to one of his events. If you've never gone to one i highly recommend it!
RipOutlaw: I enjoyed Bonus round immensely. Everything that's ran by Goon or Chapter 47 is always a great event and experience.
Of course, I can't ignore the Secret Santa event (invented by @EsportsFaustian) Bonus Round is known for. How it went this time for SoulCalibur?
Xephukai: Personally love the "secret boss santa" format. Definitely a fun and exciting incentive to look forward to, aside taking 1st place. I do want to point out that my prediction of the actual "secret santa" was correct from the get go.
FatherRamon: The Secret Santa part is always hilarious and fun! Lots of speculations behind the scenes and stuff. Lots of people going "DO YOU KNOW WHO IT IS, RAMON!?" and it's funny when I tell them yes and mention a random person just to get them thinking. So happy Bluegod came for this year!
RipOutlaw: Seeing the Legendary Bluegod was pretty cool. Sad I wasn't able to get games with him.
The winner's podium this time was basically a mirror image from a year ago. How did you manage to hit TOP3 in two consecutive years?
Xephukai: Top 3 was a mirror of the results except 3rd and 2nd were flip flopped. And how I managed to get the 2-peat? Well, I won't dive in to the boring intricacies and details of how, but I will say as I get older, time management and priorities are changing drastically. So a routine schedule for certain hours of practice a week. Good sleep, consistent physical activity, monitored nutritional intake, actually just showing up, and a little bit of luck go a long way for me and my performances. Also, I use Xianghua, I pretty much play on easy mode in most cases.
FatherRamon: No clue really. I have played somewhat recently and especially after winning DTN my motivation to pick up the controller has gone up. The game is still very fun for me. I think I got 2nd place just from my old man knowledge and muscle memory. But it's hard to even practice for something when you work over 50+ hours a week
RipOutlaw: Idk how I managed top 3. The bracket was stacked and seeing boom first round felt like bad luck. But I somehow pulled through.
If you will have to highlight one single play you made during the tournament, what it will be and why?
Xephukai: I'm going to be transparent here, but I don't exactly recall a specific highlight of my play that pops to me. I played well through and through. Adapted when needed, and executed a dub for me.
FatherRamon: Definitely playing Setsuka, losing the 1st game to Xeph and keeping her for the next 3 games and winning. Trusting that I could pull it off in the first place was the highlight of that day for me.
RipOutlaw: Not really a play I made but my highlight would have to be versus Panto. I was on the verge of losing but then I heard Xeph rooting for me and that gave me the will to win to turn the tide. That match was a slugfest.
Any closing words or shootouts?
Xephukai: Closing words: Chapter is a stellar host and TO. Quickly has become one of my favorite individuals in the SC community. He takes care of not just us, but his people. Shout outs to Chapter. Goon as well. Didn't get to say much, but it's because he's very dedicated to what he does. Ramon, Boom, Yoki, it's always love from me to you guys. Thank you for sharing the experience with myself and Noelle in Seattle.
Shouts to Arc Graves, Rip city, Pawdy, Bigpapachunk, Blue, Pantocrator, and every one else I got to enjoy conversation and/or games with. Thank you all. I'll more than likely be at the next event. We'll see 🙂
FatherRamon: Shout out to my wonderful Girlfriend Yoki for getting 4th place! So proud of her but unfortunately she had to lose to the most handsome person there (ME) and it was either her or me. My bad. Get good 😛
RipOutlaw: Shootout to Goon for putting up a great event and to Chapter47 for keeping the PNW scene alive.
BONUS: As it was Christmas… What was your best gift this year you either got or gave?
Xephukai: My favorite present I got was a journal and two pens. Very simple gift in the grand scheme of things, but it's almost like my younger sister read my mind since I've started tracking my physical fitness through that journal, and I'm a bit old-schooly when it comes to wanting to sit and write my physical fitness progression.
Best gift I gave was to my lady, imo. I got her an air fryer and we both love it.
FatherRamon: Best present for Christmas was the bunch of sweatpants Yoki got me. I've been needing those for awhile and it was perfect!
RipOutlaw: Best Christmas gift I got was spending quality time with my little family and seeing them happy. Ain't nothin better.
Thanks a lot for the interview!